I finally did it! I made my first batch of Melt and Pour Soaps!
They don't look like the prettiest things in the world, but frankly as it was my very first time, I'm just happy that it wasn't a disaster.
I decided for my first batch to use the worst quality base that I had. I got a lot of stuff off a woman on eBay that didn't have the time to make soaps, but this base looked like it had been melted a couple of times before. It was cloudy white and it had a few bits in it. Wierd, I know but this literally was just a test.
The first half of the batch is Tea Tree scented, only lightly as I know a lot of Tea Tree can even make my eyes water, and I am not sensitive to any scent that I've come across. I tried to add some blue and green colour to make a nice Tea Tree turquoise but I don't think I added enough, lol you can't really see any colour in the photo and only a little in reality.
You can see the inevitable bubbles on the top, I haven't got my alcohol spray sorted yet.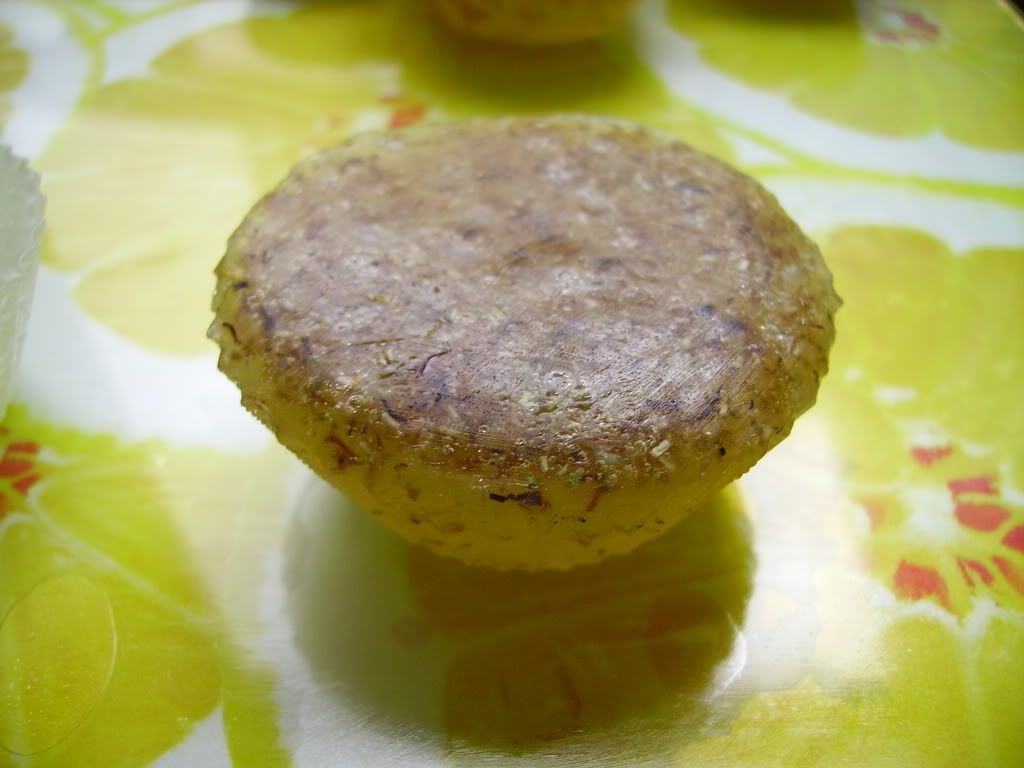 To the second half of the batch, I added some chamomile and meant to add Vitamin E too, but in all my excitement, I plain forgot! It has added a nice pale yellow-green to the soap and it smells lovely with the Tea Tree, fresh and calming yet it's really subtle. I think I can pronounce the recipie a success though, and I'll be using chamomile again! You can't really see it from the pictures, but it really gives a nice hand-made look to the soap.
I did have a little bit of an incident as I left the soaps in the kitchen overnight and they were slightly slimy in the morning. I believe this is because the kitchen was damp and it's reacted with the soap a bit, but never fear, I took ahold of my trusty kitchen roll and gave them a wipe over to get rid of the slime before I wrapped them in cling film and put them in an airtight container for storage.
I'm not too bothered that they didn't come out so beautiful, like I said this is my first time so it was just a test, and after all, they're only going to be sent to friends and family for "testing" right now. No sales until I get my safety assessment, I'm afraid.
I think I'm hooked, though, so there's probably going to be more on the way this week! Maybe even this afternoon... I just can't wait!

Small update: It must have been a dodgy batch of base because it doesn't lather... at all. Maybe those will stay in the "lesson learnt" box haha.